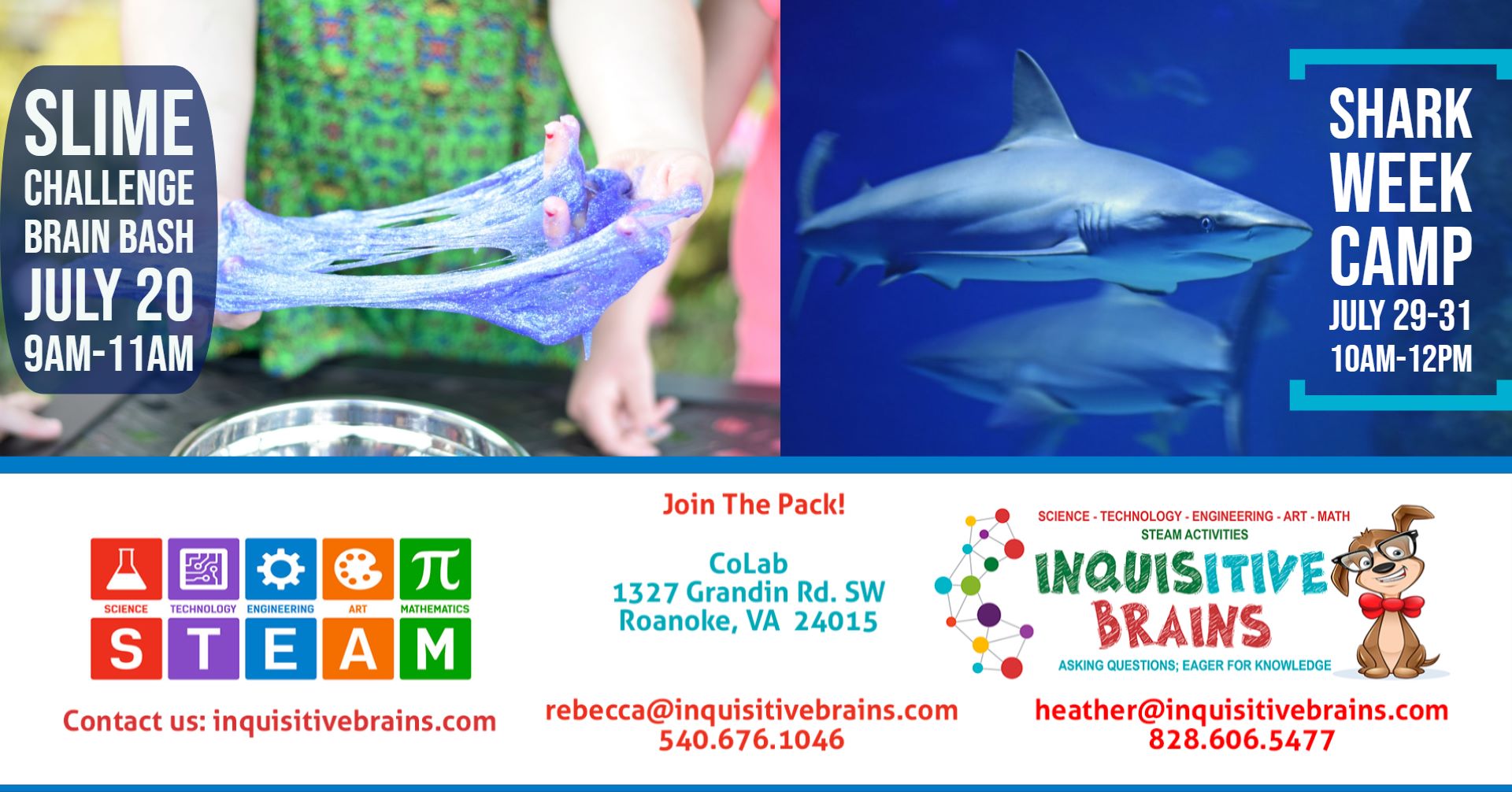 Inquisitive Brains, LLC, offers engaging Shark Week Camp July 29-31!
Did you know that some species of sharks, like the Blue Shark, can fit through the bars of a diver's shark cage? Or that the Great White Shark species can never stop swimming or they will drown? Their embryos actually attack each other and only the largest, strongest of the unborn litter survives birth! What about the theory that sharks don't even like the taste of humans, but prefer seals for dinner?!
These are only a few of the morsels that your kids will learn at Inquisitive Brains' Shark Week Camp on July 29th -31st!
Inquisitive Brains, LLC, is a new STEAM (Science, Technology, Engineering, Art, and Mathematics) learning center located in the Grandin area of Roanoke, Virginia. Run by two Virginia licensed, enthusiastic math and science teachers with plenty of experience teaching all five STEAM subjects, Inquisitive Brains offers STEAM camps,
STEAM birthday parties, STEAM parent's night out events, STEAM mom's morning out events, STEAM holiday events, and more! These weekly events are sure to nurture your budding youngster's engineering, scientific, artistic, and mathematical reasoning brains!
During the three-day Shark Week camp, each pack member will enjoy working collaboratively to complete Shark Week Challenges including: Shark Cages, Floating Shark Fins, and the Build a Boat Challenge. Together, they will investigate and experience buoyancy, density, the engineer design process, and even some chemical reactions! Daily team-building activities that encourage leadership skills while crafting artistic imagination is sure to be a hit! Teachers Heather, Rebecca, and Bonnie are gearing up for an exciting camp for your 5 to 13-year olds! Register today