Macaroni Kid Roanoke is celebrating 10 years of bringing family fun to thousands of Roanoke families this October and we want to help area kids have a memorable Halloween while helping Downtown Roanoke by bringing more families downtown!
Participating businesses will hand out candy and other treats toTrick-or-Treaterson Saturday, October 31, 10 a.m. - 12 noon. In addition, some businesses will be offering additional festive activities throughout the morning. We'll update this article with more details soon!
We are asking families to register to participate in this event so we can
Prepare for enough treats
Limit the number of trick or treaters in the area, per COVID guidelines
Communicate any changes or cancellations with you.
The completed trick or treat map will be emailed to families who register by 10/30/2020, or if we reach capacity prior to that time, registration will be closed. We are still adding participating businesses and the map will be mailed out next week.
-------------------------------------------------> Register here.
We want ALL families and our wonderful local business owners to feel comfortable and as safe as possible while still enjoying the Halloween fun, so we are asking you to adhere to the following guidelines.
Wear masks
Start in your assigned area on the map, which will be communicated with you when we email you the map. Follow the order of the map, trick or treating in 1 direction- per CDC guidelines, this makes trick or treating less risky.
Follow social distancing guidelines by keeping 6 ft of distance - About the length of a Witches Broom! - between your family and others
Please visit ALL of the businesses who are participating- you'll get a nice walk and it will make their day!
Participating businesses are being asked to wear masks and gloves and to stand outside of their store from 10 a.m. to 12 p.m. to hand out candy/treats.
Please note, this is not an event. It is simply organized trick or treating. Streets will not be closed and you are responsible for keeping your kids safe as you walk through downtown, crossing streets, etc.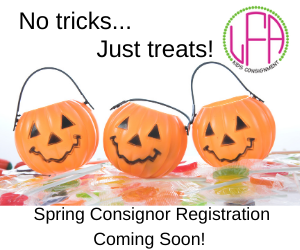 Are you an Insider Yet? Macaroni Kid makes it super easy for you to find your family fun all year long. Receive a local calendar of family-friendly events each Tuesday morning when you SUBSCRIBE FOR FREE! You'll be glad you did ... and so will your kids! For even more fun, find us on Facebook, Twitter, and Instagram