Calfee Community & Cultural Center (CCCC) is pleased to announce the 2022 Pulaski County Juneteenth Celebration, scheduled for Sunday, June 19, 2:00 – 5:00 pm. In partnership with the Wilderness Road Regional Museum, which will host the event at their Dublin/Newbern location, and Pulaski County Library System, CCCC invites everyone to a fun, family-friendly afternoon to celebrate the ending of slavery in the United States.
Juneteenth, also called Freedom Day, commemorates June 19, 1865, the day that the last enslaved Black persons in the confederate states were informed that slavery had been abolished, legally making them American citizens. Juneteenth not only celebrates the freedom of African Americans from slavery, but is also a time of national and African American pride. People of all races, ethnicities, and backgrounds recognize the opportunity to come together in appreciation, reconciliation, and commemoration.
In 2021, Juneteenth was officially declared a US public holiday, and we are excited to observe Juneteenth here in Pulaski County with a celebration open to all. The Pulaski County Juneteenth Celebration will feature interactive storytelling, live gospel music from The Glorylanders, a cornbread tasting contest, children's book giveaways, costumed historians, a military reenactment, and other activities to promote cultural awareness and community cohesiveness.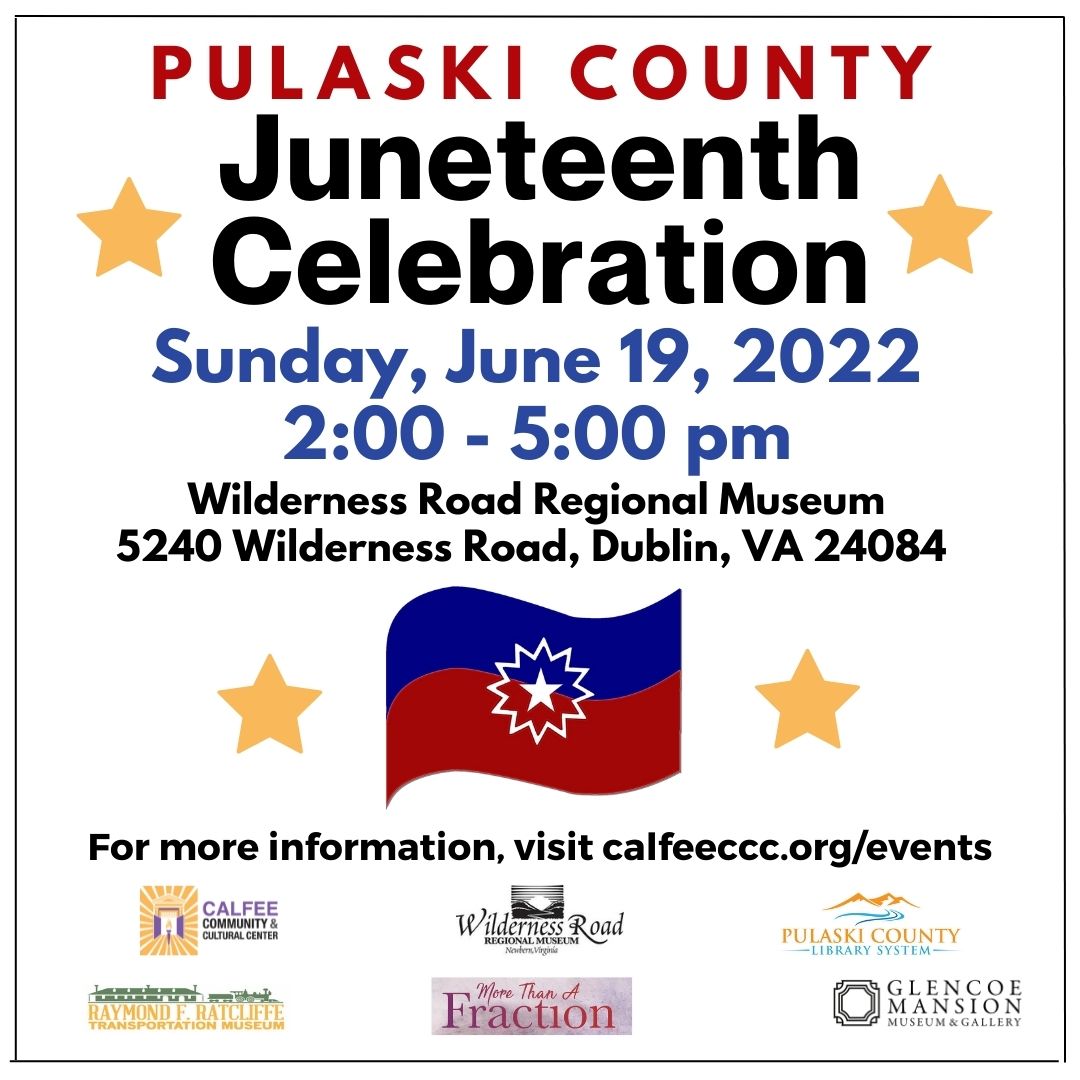 Join us for Juneteenth at the Wilderness Road Regional Museum, 5240 Wilderness Road, Dublin, VA. Entry to the celebration on June 19 is free, and food will be available for purchase. Limited seating will be available, and attendees are encouraged to bring chairs and blankets to enjoy the program on the lawn. In addition to CCCC, WRRM, and Pulaski County Library System, event sponsors include Raymond Ratcliffe Memorial Transportation Museum, More than a Fraction, and Glencoe Mansion.
For a schedule of the day's activities and more information, visit calfeeccc.org/Juneteenth. Follow our Facebook event for updates: https://fb.me/e/4lSKpPMYK.
# # #
Please contact CCCC Communications Director, Binti Villinger, for additional details and press requests. binti@calfeeccc.org.
About CCCC
Calfee Community & Cultural Center is revitalizing the legacy of the historic Calfee Training School by serving all of Pulaski County's children, families, and organizations, building a stronger future for Virginia's New River Valley. Learn more at calfeeccc.org, Facebook @CalfeeCCC and Instagram @calfeecommunity center.
-------
Calfee Community & Cultural Center, P.O. Box 62, Pulaski, VA 24301 info@calfeeccc.org
About Wilderness Road Regional Museum
The Wilderness Road Regional Museum focuses on local and regional history in Southwest Virginia. Exhibits, archives, and special events offer visitors insight into the lives of those that lived along the main migration route west. Visit wildernessroadregionalmuseum.com for more information.
About Pulaski County Library System
The Pulaski County Library System provides free, friendly service and access to timely materials that educate, inspire and entertain the entire community. More than "just books," the library provides diverse FREE programming for both adults and children, as well as a variety of online resources, ranging from online materials for checkout to local history and genealogy, DIY classes and databases. Visit pclibs.org and take a look at the amazing opportunities they have available on their online calendar of events.
-------
Calfee Community & Cultural Center, P.O. Box 62, Pulaski, VA 24301 info@calfeeccc.org