The Roanoke Valley SPCA has some very special big boys and a little senior looking for their Fur-Ever home. If you have been thinking the time is now to bring your new best friend, loyal protector, and 100% LOVE home, Then check out these sweet ones from the RVSPCA.
Boss
My name is Boss. I am almost 6 years old. Once I get to know you, I am sweet and love to give kisses! I love to play and go for walks. And I really enjoy learning new things. My friends here have taught me to sit, stay, give paw, nose touch, and to go to my mat. These tricks are fun, but they also teach me how to interact with new people in a positive way. They give me something to do when I'm uncomfortable, rather than just focus on what is making me uncomfortable. I've made some amazing friends at the Roanoke Valley SPCA. Although I've been getting the royal treatment from everyone here, for almost 2 years, it's time for me to move on and find my permanent home.

I need someone who is willing to meet me several times before taking me home, and once I'm there they need to help me with my fears of new people. You won't be all on your own though! I will be a "foster to adopt" so the folks at the Roanoke Valley SPCA will give you extra support, check in with you regularly, and connect you with a dog professional in the area who can work with us! I've done fine with other dogs in the past, but learning new people and a new home is a lot for a dog like me, so I'd do best being on my own until I get comfortable with my new family!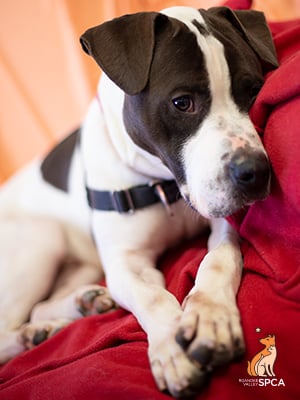 Mack
My name is Mack and I'm a 3 year old, great, big, boy! Believe it or not, I can be a little fearful of new people and objects, so it may take me a little time to come out of my shell. But when I do, I'm a big lovable and playful goofball. Who doesn't love a ham? Mack is such a handsome boy. He thought he'd found his new home, but at no fault of his own, he was recently returned to the shelter.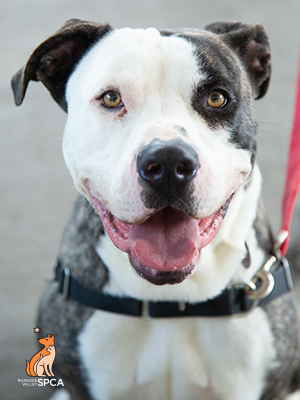 Merlot
My name is Merlot, and I've aged-to-perfection like a fine wine! I'm a very social boy with a big blocky head. But just because I'm 8 years old, don't let that worry you - I still have the spunk of a youngin and love to play with my favorite Kong toy! I'm just looking for my best friend to play with me.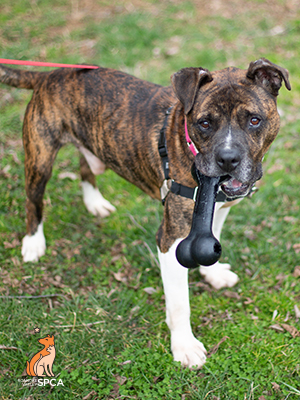 Oreo
My name is Oreo. I am a very active young guy. I am just 7 months old and have grown up in the shelter. I really would benefit with some positive reinforcement training! I spent some time in foster care and learned if I am good, I get a couple of cheerios! I am crate trained and working on house-training. My foster mom's best advice for my new family is to have patience with me and she knows I will make a great family companion. I am 37 pounds, neutered, vaccinated, microchipped and heartworm tested. My adoption fee is $99 and to help me be successful in my new home, I am going home with training sessions with one of the Roanoke Valley SPCA training partners. Thanks to the Judith Goins Behavior Support Fund for covering the costs.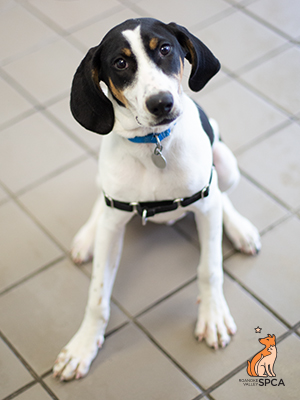 Simba
My name is Simba! I am a very special senior looking for someone to love me. I am 10 years old and do not see or hear well but it does not stop me from following my people around. I am only 8 pounds so I won't take up that much space in your home, but may fill your entire heart with love. I'm neutered, vaccinated, microchipped and heartworm tested. My adoption fee is $99.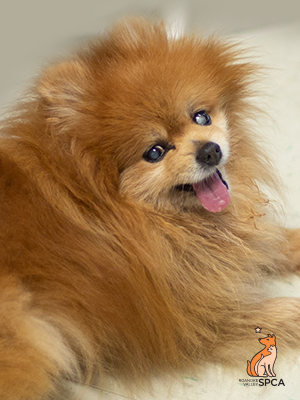 Fill out the adoption application can now be accessed and filled out online here: https://rvspca.org/adopt/adoption-application/ For more information on our adoptable animals, check out our online animal adoption gallery here: https://rvspca.org/availability/adopt/ and our rehoming gallery here: https://rvspca.org/rehoming-gallery/