***You've stumbled on this page from an internet search, please note the below information is for 2019. Find 2021 Here! https://roanoke.macaronikid.com/search/%F0%9F%90%B0#events
Your guide to Easter Egg Hunt & Activities in Roanoke, Virginia. Get out your calendars and Find Your Family Fun in Virginia's Blue Ridge. Keep scrolling to enter to win a 4 pack of tickets to our Glow in the Dark Egg Hunt!


Friday, April 12
6:30 PM Easter Eggstravaganza at Peters Creek Church of the Brethern


SATURDAY, APRIL 13
10 am Easter Egg Hunt at North Roanoke Baptist Church
11 am - 2 pm Egg-cellent Adventure at the Virginia Museum of Transportation
11 am Kroger Roanoke Stores
11 am - 2 pm Egg Hunt at Vally Word Church
11 am-11:15 am Easter Egg Hunt at Buchanan Park
1 pm-3 pm Easter Egg Hunt by Keller Williams Realty
2 pm Grandin Court Baptist Church Easter Egg Hunt
Sunday April 14
3 pm - 5:30 pm Egg- Citing Egg Hunt at Harvest Kids
Tuesday, April 16
3 pm - 6 pm Easter Egg Hunt at West End Farmers Market
4 pm - 5 pm Egg Hunt at Glenvar Library for Ages 10+
Wednesday, April 17
6:30 PM - 7:30 PM Easter Egg Hunt at Preston Oaks Church
Saturday, April 20th
10:30 - 5 PM Glow in the Dark Egg Hunt by Macaroni Kid Roanoke & Science Museum of Western Virginia
10:30 -12:00 PM Sensory Friendly, All Abilities, Egg Hunt sponsored by Fave Solutions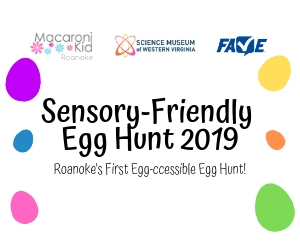 10 am Annual Alumae Easter Egg Event at Hollins University
10:30 - 12 pm South Roanoke Egg Hunt
12 pm - 2 pm Easter Egg Event at First Evangelical Presbyterian Church
1 pm- 3 pm Easter Eggstravaganza at SML State Park
1 pm- 4 pm Egg Hunt in Waid Park, Franklin County
2:30 pm - 5 pm Easter Eagle Egg Hunt at Lynchburg Hillcats
Easter Sunday, April 21
12 pm Easter Party at Parkway Church
We are giving away 4 tickets to our Glow-in-the-Dark Egg Hunt! Register to win this week!