Let me preface this by saying that I'm NOT a huge fan of bugs, especially ants. And, it is not often I find a toy involving bugs that I'd willingly want my kids playing with, but I have to say Uncle Milton and Nat Geo have created something that is pretty fantastic with the
Nat Geo Wild Anteater Bug Vac. And, my none-bug-loving self actually thinks this is pretty cool!
This cute little bug vac looks like an anteater so it's very inviting for kids to play with. Kids push a button and a very gentle vacuum suction sucks up little bugs, critters, and, of course, ants! It is super easy to catch bugs. Hands down the easiest toy to use for this sort of thing that I've found. There is a removable, clear container with a magifying glass for better viewing, and there is a lid so you can let the critters go when done! I like the fact that the bugs are contained and your child can view them easily and without harming the bugs (or touching!), and then let them go when done.
My kids have been playing outside for hours with this in our front yard. In fact, they leave it by the door so they can grab it when they head outdoors to play. I highly recommend this toy for any bug loving kid in your life!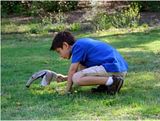 I was provided the Anteater Bug Vac for review purposes.