There are two reasons you MUST make these Pumpkin Pie Pops. One, they will make your house smell heavenly. And two, they are delicious. I'd actually recommend doubling or tripling the recipe because one batch lasted less than a day in my house! Plus a third reason, everything is better on a stick!
Here's what you need: 
2 Refridgerated Pie Crusts (9 inch)
1/2 cup Pumpkin Puree
1/4 cup Brown Sugar
1 Tablespoon Maple Syrup
1/4 teaspoon Pumpkin Pie Spice
1 egg, beaten
Lollipop sticks
Parchment paper
Pumpkin cookie cutter
For the Glaze:
​1/2 cup Confectioner's Sugar
1/2 teaspoon Vanilla Extract
2 to 4 Tablespoons Maple Syrup (I used 3)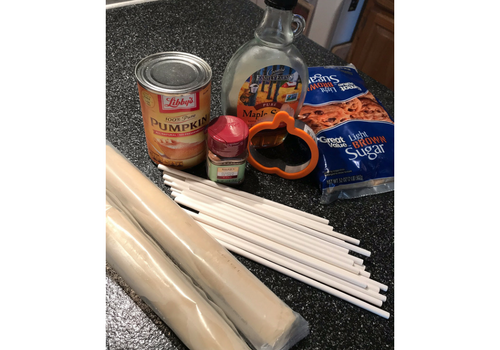 ​
Here's what you do:
​Preheat oven to 350 degrees
Roll flat the pie crusts on a clean surface and use a pumpkin cookie cutter to cut out the shapes.
Combine the pumpkin puree, brown sugar, maple syrup and pumpkin pie spice in a bowl mixing well
Line a baking sheet with parchment paper and put half of the pumpkin shapes on it
Lightly brush each pumpkin shape with the beaten egg
Gently press the lollipop stick into the dough making sure to it's indented slight and you have at least 1 inch of lollipop stick pressed into it.
Add a spoonful of the pumpkin mixture to the center of each pumpkin shape covering the lollipop stick. Be sure to leave space around the edges so it can sealed close.
Place the other pumpkin shapes on top and press the edges slightly with your fingers.
Use a fork to press around the edges to seal it.
Lightly brush each pumpkin with the beaten egg.
Bake at 350F for 20 to 25 minutes until golden brown.
For the Glaze:
​In a small bowl combine the confectioner's sugar and vanilla extract. Add in the maple syrup 1 Tablespoon at a time until your glaze is a little runny. (I used 3 Tablespoons).
Drizzle over the pumpkin pies when they come out of the oven.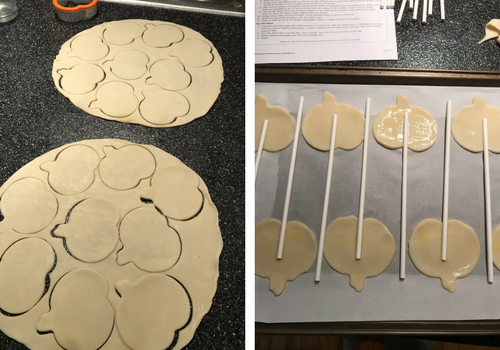 ​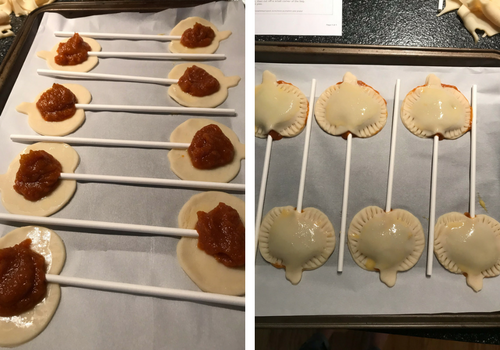 These are so quick and easy I will definitely be making them again, and again, and again!