Throughout the pandemic, one thing has become obvious to me- I can not go anywhere, not even a Zoom Room without my eyebrows filled in! They just complete my face! Also, as some of you may have experienced as you start crossing over that 40 year mark, you lose the "tail" of your eyebrow. I have been curious, and a little envious, about some of the perfect brows I've seen on friends and the new buzz word- microblading, but I really had no idea what it was. I also assumed it was something I could not afford to "keep up".


I recently took the plunge and booked an appointment at Foxy Brows Co. When I posted my results on Facebook, I had hundreds of friends who were also curious about the process and results, so I decided to share them step by step with my Macaroni Kid Mamas.
First of all, let me just tell you how adorable Foxy Brow Co is, the decor is fun and trendy, and the owner, Donna Agee- sweet as honey! Donna and her daughter, Carmen, provide all of the services at Foxy Brows Co. In addition to microblading, you can get your lashes permed, tinted, or filled in. They are currently getting certified in permanent makeup. Yes, ladies, that means you can wake up with your face on every morning. If the idea of slicing into your forehead with a mini-blade sounds frightening to you- no worries, Donna is an RN and she's been assisting with cosmetic and surgical procedures for many years. Carmen is a licensed esthetician and also certified in lash extensions and permanent makeup tattooing.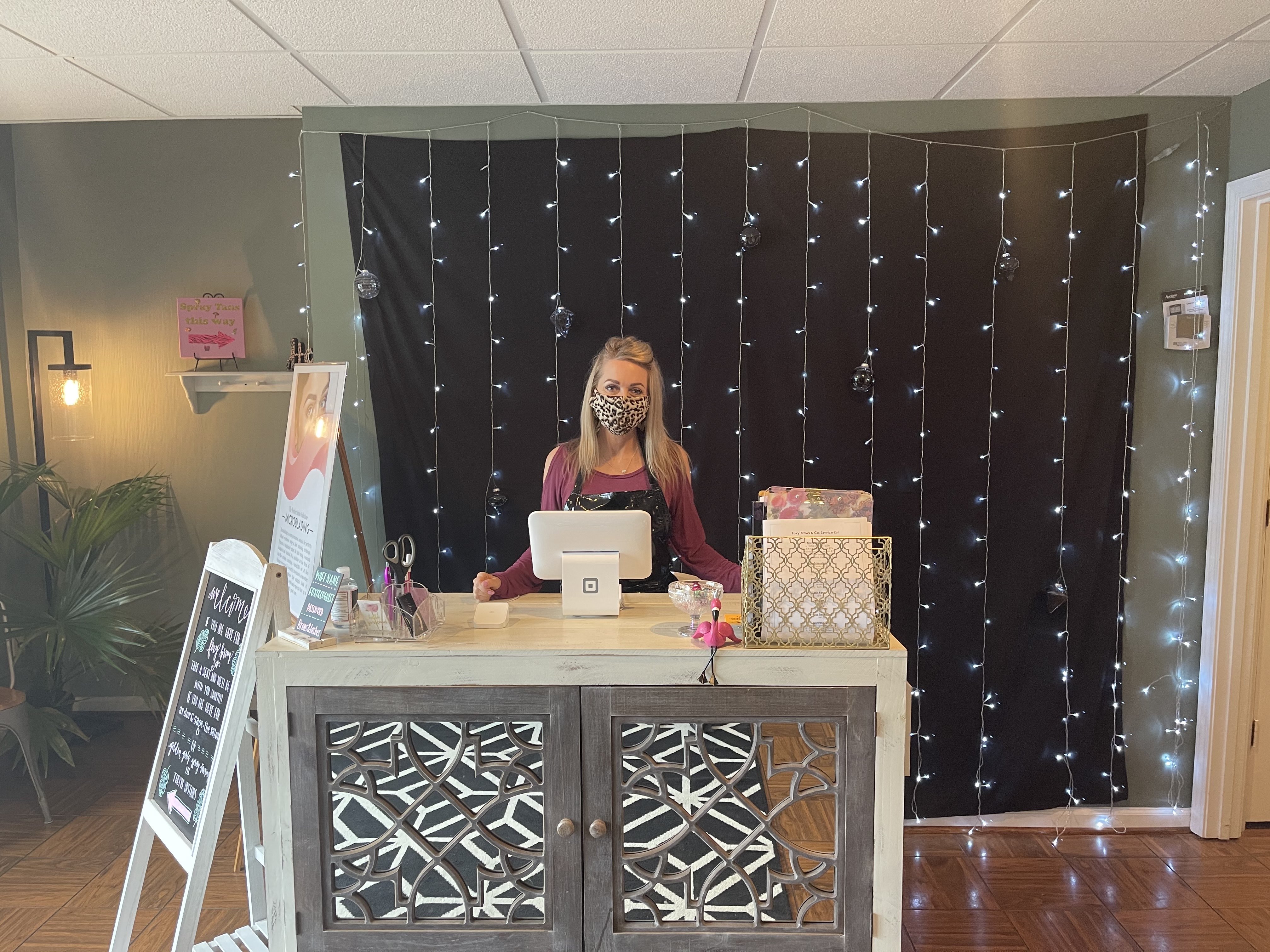 Wait, did she say slicing into our forehead with a mini blade? Yes, I mean, it is called microblading but I still had no idea what that meant before I got to Foxy Brows Co. I expected a tiny tattoo needle. However, microblading is done with a very small knife blade. Donna uses the tiny blade to insert pigment to create hairlike strokes onto your brows.
I'm getting ahead of myself, first- she puts this nice numbing cream on your brow area, as shown below. Donna also reapplies the numbing cream throughout your 2 hour session. I honestly could have slept through this procedure had I not enjoyed chatting with Donna the entire time. I don't have a high pain tolerance and I wanted to vomit the first, and only, time I had my brows threaded. Also, notice my pathetic natural brows.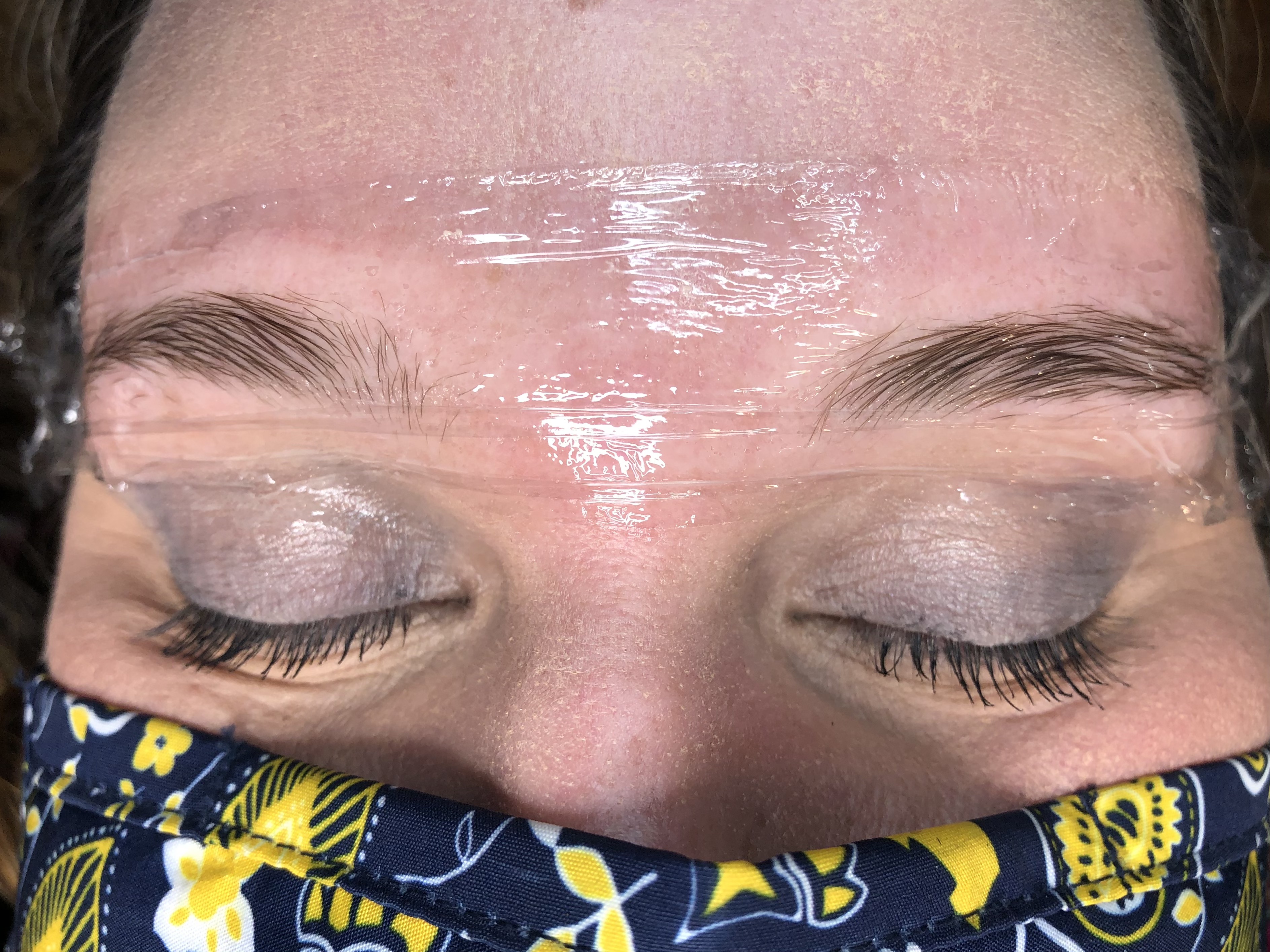 After numbing the area,Donna places a ruler on your head and does what she calls 'Mapping'. Mapping is where she uses a pencil to draw in guides for how long you want your brows to be and where you want your arch to be. The ruler ensures everything stays even. Donna talks you through the whole process, shares progress, and gets your feedback before moving forward.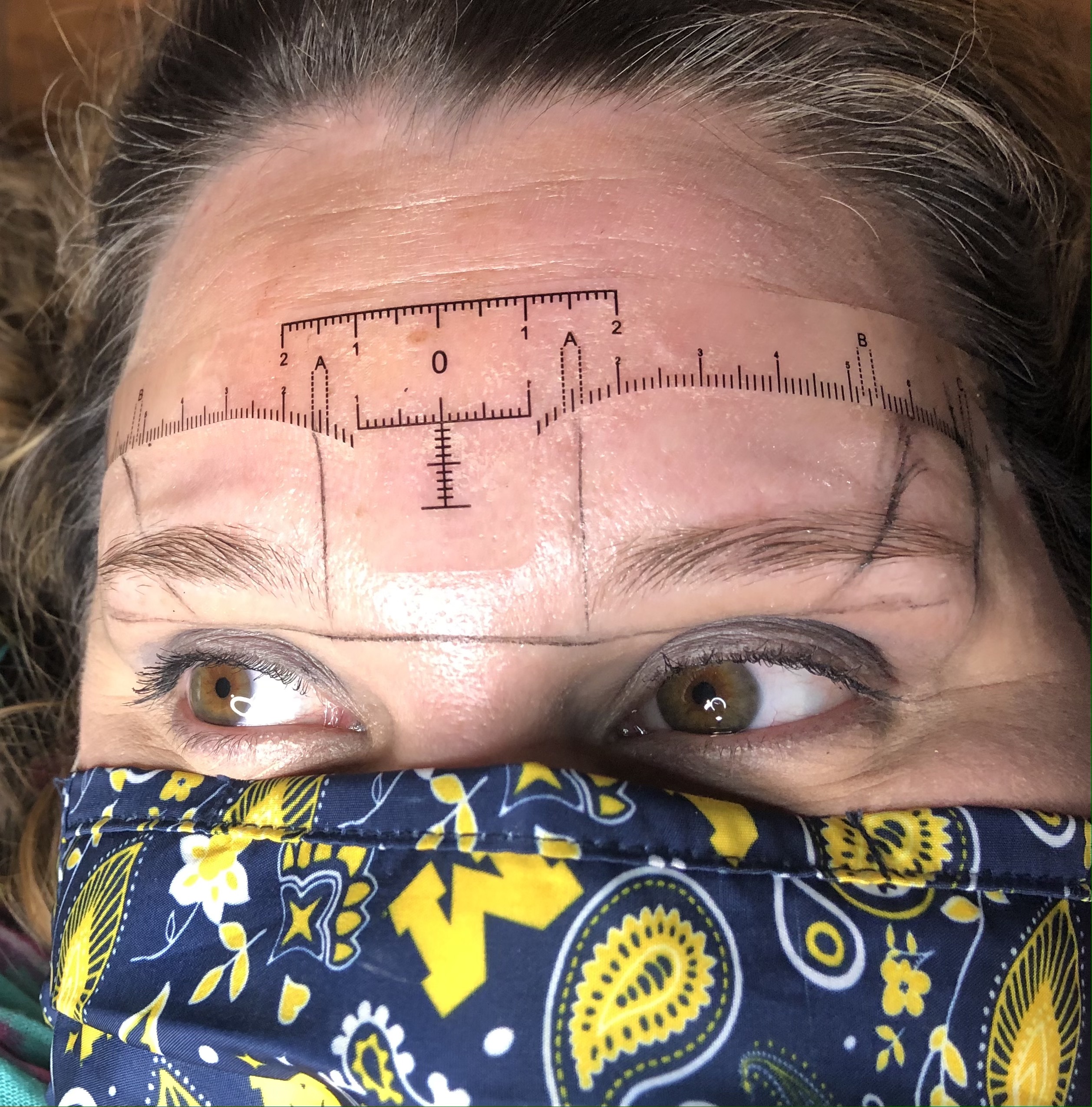 After mapping, Donna, tests a few different pigment shades on your skin so you can choose the best color. I prefer my brows on the darker/brunette side and she got the color perfect! After selecting the color, she begins using the small blade and pigment to fill in your brows. Throughout this process, she reapplied the numbing cream 3-4 times. I never felt anything other than a little sting when she first reapplied the cream. That went away in seconds. You are laying on a comfortable, massage type table, throughout the process. After Donna completes most of the design, she has you sit up to look into a mirror so she can determine any adjustments that need to be made, and of course gets your input as well.
The final result is amazing! Check out these before and afters.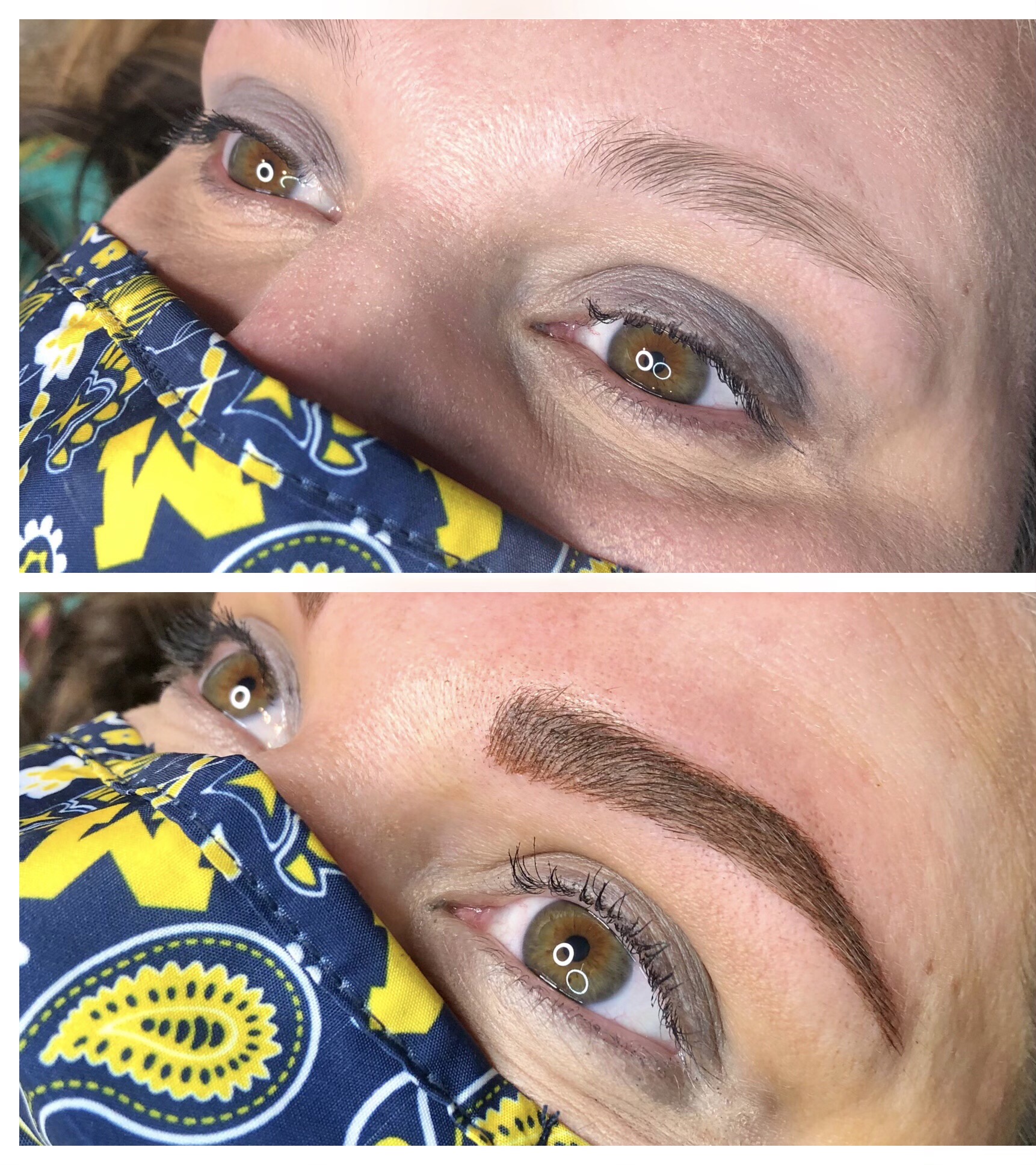 The next day, I was still in love!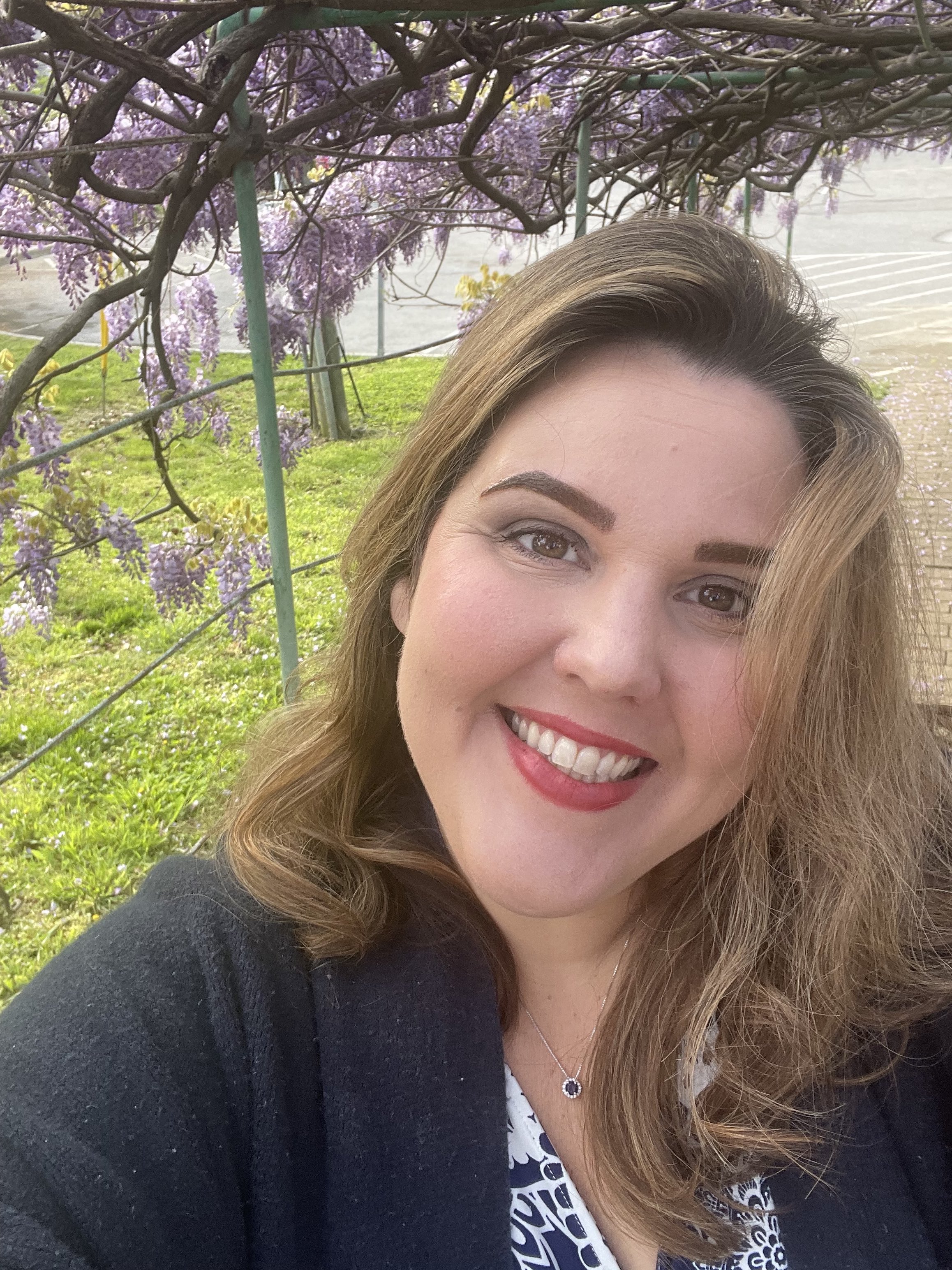 Donna gives you a guide that explains what you'll experience over the next days and weeks. For example, the few days after your session, your eyebrows will be itchy from where they skin is healing. She gives you Aquaphor to apply to your brows and instructs you to be gentle when rubbing it on, and DO NOT, scratch. After a couple of days, you get a little scabbing, again- Do Not- pull the scabs because you may pull out your pigment.
Two weeks later, and I am still so happy that I did this. My brows have gotten a little lighter and there are a couple of places to touch up, but that is to be expected. So what happens next? I have a 6-8 week follow up appointment scheduled where Donna will touch up those few places and make any other adjustments she thinks are needed. Then I will only have to go every 6-12 months for fill ins.
I have been asked if this was expensive. I personally spend $20 every 5-6 weeks on a brow pencil. My initial appointment with Foxy Brows Co was $200 for a 2 hour session. The 6-8 week touch up is $75. That is only a tiny bit more than my eye pencil for a year, and I get to wake up every day to perfect brows and loving what I see in the mirror- Priceless! Are you ready to book your appointment? It's super easy on Foxy Brows Co website. or you can send this link to your significant other for a great Mother's Day/ Teacher Appreciation/ Nurses Week/ No occasion needed, we're sure you deserve it- gift card!
Here I am yesterday, 2 weeks after my session, feeling confident as I led a large event for my full time job!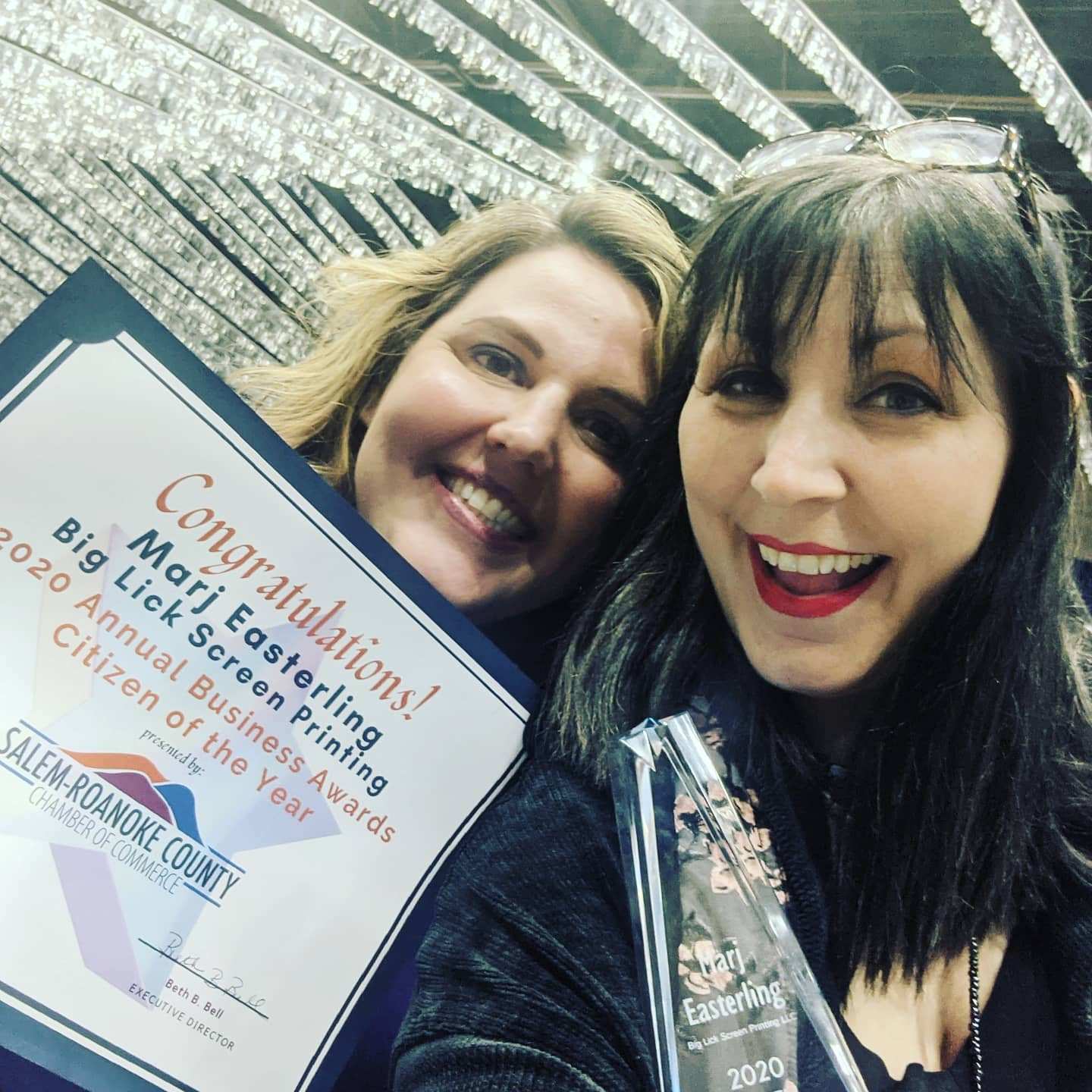 I will keep posting follow up pictures on Macaroni Kid Roanoke's Facebook page- follow along there!