Dear Macaroni Kid Families, we need your help!
Many of us are rushing to end the school year and get the summer party started, but we still have a few weeks before school is finished in the City. We need your help keeping kids safe in school zones and all Roanokers safe in crosswalks! Mom to Mom, tell me how many times have you been frustrated by drivers speeding through your school zone? or zipping by your bus stop? That feeling is 100 times worse than how we feel about car rider line in-competencies!
Macaroni Kid loves kids and families and wanted to help the City of Roanoke with this project to remind drivers of the laws and safety precautions in crosswalks. Can you spend a few minutes to help? It's simple, read this message for a few reminders about driving and walking in the city, take a short quiz, and you'll be entered to win a gift card from Blue Cow Ice Cream! It would also be great if you would share this in your neighborhood apps and social networks to make more drivers aware!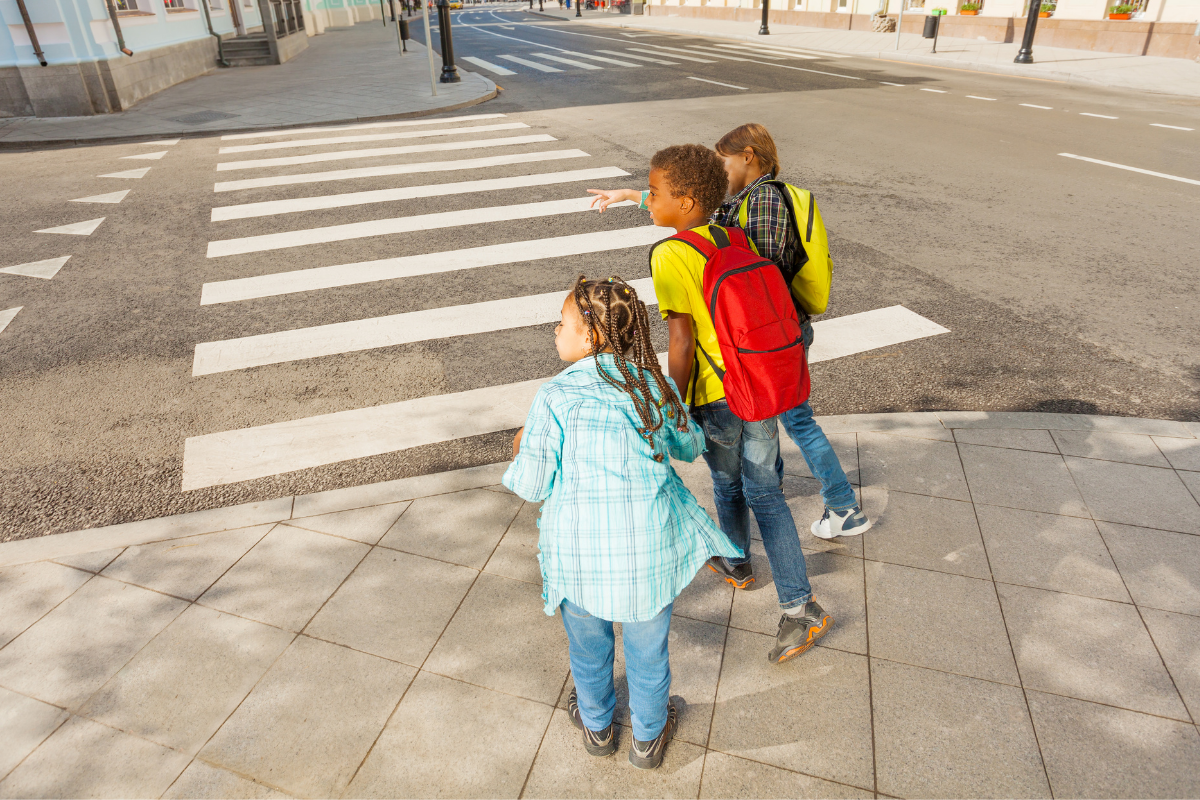 Facts and Laws about Driving in School Zones and Crosswalks
In 2021, 50 vehicle accidents occurred in Roanoke City school zones.
In 2019, the City decreased the speed limit in school zones in neighborhoods to 15 mph
Distracted driving is costly! Not only is it dangerous, especially for pedestrians, you can be fined up to $250 if caught driving with a hand held device and up to $2500 if you cause bodily harm (for any reason).
Not all crosswalks have "walk" signals. Pedestrians have the right of way at green lights- so always yield to pedestrians before turning at an intersection.
Tips for Pedestrians: Walking Safely in the City
Always cross streets at a crosswalk, intersection, or corner. Drivers will not expect you to cross in the middle of the street.
Always cross using "walk" signals at crosswalk when available, or using traffic signals (green lights).
Talk to your children about how to cross streets safely and be aware of traffic.
Are you ready to take the quiz? It's only 5 questions and very quick! Don't worry, you don't have to share your personal information if you do not want to be entered to win the Blue Cow Ice Cream gift card. I'll admit it, I didn't trust my knowledge and did not put my personal information in, but I ended up getting them all correct! phew! Go for it! Here's the quiz: https://planroanoke.org/quiz/
Coming soon! A fun, new, way to teach your kids about traffic safety!
At the Earth Day Roanoke Festival, RIDE Solutions installed and ran a small pop-up traffic garden. It was a big hit with local kids and families with hundreds visiting it on the day. Kids biked and scooted in the small set of temporary streets for the duration of the event. Now the City of Roanoke is getting its first permanent traffic garden this summer. This new permanent traffic garden will be quite a bit larger than the pop-up installation and is going to be installed on an existing site next to Westside Elementary School.
The Westside Traffic Garden will be created using child-scale streets and scaled-down versions of real-world traffic signs and pavement markings. Children on balance bikes, two-wheelers and scooters will now have the opportunity to ride in a comfortable place that is designed just for them.
Traffic gardens are a great place for families to play and teach kids to ride. Kids need places where they can be active and play, and the new Westside Traffic Gardens will be an engaging and welcoming space for new learners and those who want to practice skills. Beyond play, this will be place where we are teaching for the future. Watch out for programs and events in this new space.
Macaroni Kid Roanoke will be sure to let you know when it's ready!
The City of Roanoke wants to hear from you! Tell us your walking stories on social media and tag your posts with #NoNeedtoSpeed and #RoanokePedestrianSafety. For specific laws, references and other ways you can help, visit https://planroanoke.org/pedestriansafety/.