Parkway Kids is pleased to announce a third run of our Summer day camp program for rising first - 6th grade kids. We will offer fun activities with themed activities and projects each week from 9am - 3pm Monday - Friday with lunch and snacks provided. We also offer Early Drop-off and Late Pick-up for your extra convenience! Join us all summer, or just pick the camp weeks that work best for you!.
Summer 2022 Dates and Themes

May 31 - June 3: Adventure Camp
June 6-10: Around the World Camp
June 13-17: Mega Sports Camp VBS (no charge 9am-noon)
June 20-24: Kids in the Kitchen Camp
June 27-July 1: Lego Camp
July 5-8: Mad Science Camp
July 11-15: Arts & Crafts Camp
July 18-22: Performing Arts Camp
July 25-29: Inspire Dance Camp
August 1-5: Games Camp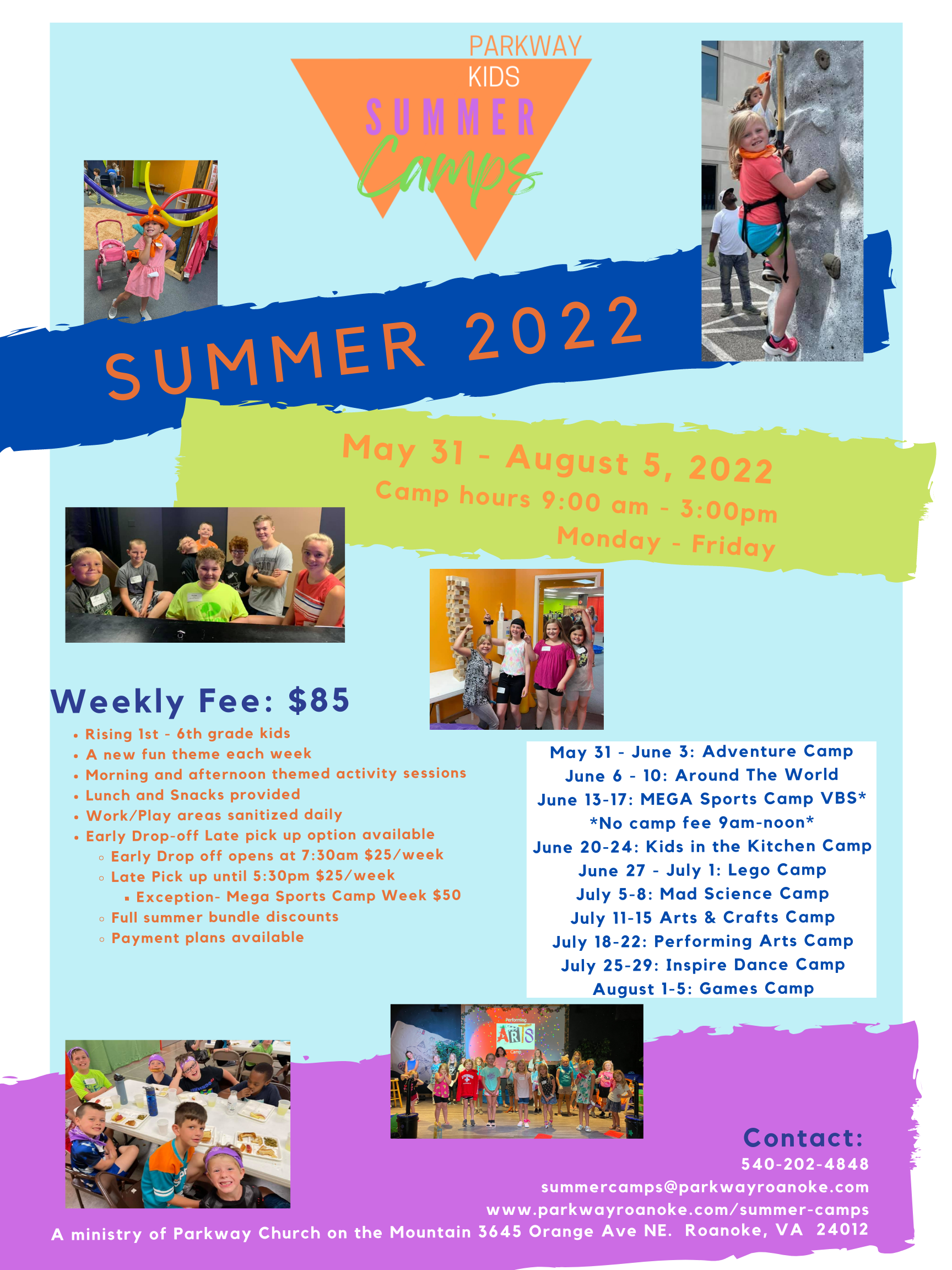 Camp Costs (Early Drop-off / Late Pick-up register in advance)

Camp weeks are $85 for the camp (except Mega Sports Camp week, which is free from 9am - noon)
Early care begins at 7:30am and is $25 per week
Late pick up ends at 5:30pm and is $25 per week
We have 2 discounted bundles this year for full-week camp registrations
Full summer - with extended care $1160 (a $130 savings)
Full summer - camp hours only $700 (a $65 savings)

Special note: June 13-17 - Mega Sports Camp VBS
No Camp fee for 9am - 12pm programming


COVID Safety
The well-being of our staff and campers is very important to us. We make every effort to follow published safety guidelines. As we always do, we work to keep our camp facilities cleaned and sanitized 2 times daily. Our camp facilities are professionally cleaned every week. We encourage handwashing often with our campers and provide hand sanitizer stations for campers and staff. We will do our best to encourage physical distancing, but not all activities will allow for distance at all times. Our camp staff asks that parents perform a wellness check at home each morning, and if your child is ill, that they not attend camp that day.