We are lucky to have so many great creeks and blue ways in the Roanoke Valley where kids can splash and play!
Here are five of my family's favorite creeks in the Roanoke Region to visit. Don't see your family's favorite place to splash here? Drop me a note at bethbell@macaronikid.com and I'll add it to our list!
Put on a swimsuit, bring shoes good for creek walking, and don't forget snacks and sunscreen before heading out! And remember, always watch your kids in water — no matter how shallow it is!
---
Elmwood Park Fountains
The Elmwood Park stage fountains are kid friendly. Fountains are on during park hours (9am – 11pm) except on days when there are events in the Park. On event days, the fountains will not be turned on. Check out the Downtown Events Calendar here before going.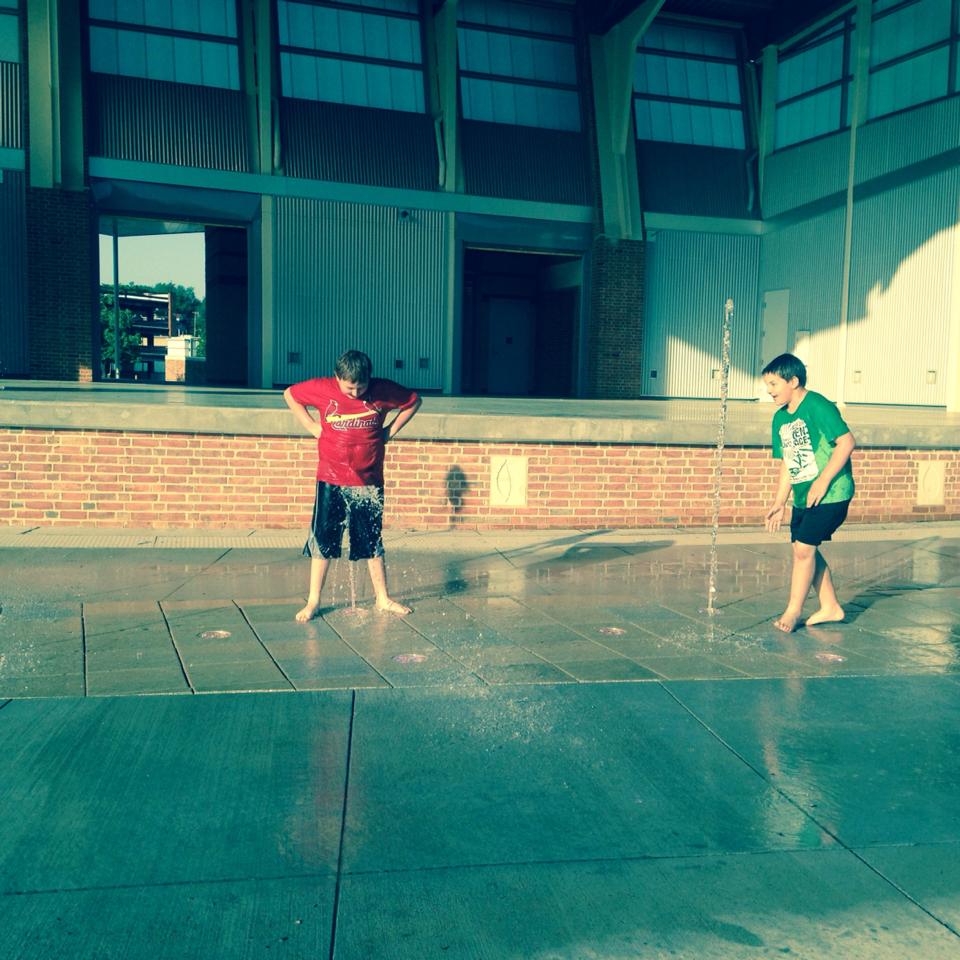 Green Hill Park
The Roanoke River feels like a smaller creek as it runs along Green Hill Park in Glenvar. You can truly make a day of it by taking a nice walk on the short, kid friendly trails, splashing in the creek, and picnicking or riding bikes.
How to get there: 2501 Green Hill Park Rd, Salem, VA 24153

Fishburn Park
Fishburn Park offers a gentle creek, a fun playground and easy trails to explore and is a Roanoke parent's best kept secret.
How to get there: 2304 Brambleton Ave SW, Roanoke, VA 24015, United States

Stonebridge Park, Vinton, VA
Walk the Wolf Creek Greenway and play at Stonebridge Park in Vinton, VA. If the water is crowded by the bridge, you can take the trail to the right to another creek opening to play in. There are also delightful farm animals to visit.
How to get there: 420 Swan Drive, Vinton, VA 24179

Rotary Park, Roanoke River Greenway, Salem VA
Many families are enjoying the water at Rotary Park this summer. I share this spot with caution. This portion of the River gets very high after rains, please always use a life jacket with small children and don't take your eyes off of them. There's no hike, it's easy to park right at the river.
How to get there: 1705 electric rd

Fenwick Mines Day Use Area
Fenwick Mines is a short drive out of Roanoke to New Castle, VA. A one mile, wheelchair accessible trail will lead you through wetland, stream, and forest habitats providing lots of opportunities to see wildlife. The base of the waterfalls offers a fantastic place to splash and play!
How to get there:
From New Castle, VA: Follow VA 615 for 5 miles to VA 611 (Peaceful Valley Rd). Turn left. Go 1/2 mile and turn right on VA 685. Follow signs to Fenwick Mines Recreation Area.
Roaring Run, Fincastle VA
Roaring Run, also featured in our favorite family hikes guide, is a quick 1.5 mile loop through the cool forest with a nature made water slide!
"Roaring run is great as a swimming hole! You can take a mild hike up to the waterfall which makes for a lovely view but the cool part is you can actually slide down the rock and swim in the pool of water below. It's refreshing after the hike and a really unique experience!" Roanoke Mom and Mac Kid Friend, Lesley Butterfield
How to Get There: From Eagle Rock, VA take US 220 north and turn left on Craig Creek Road (SR 615). Continue for 5.5 miles. Turn right on Roaring Run Road (SR 621). Travel one mile to entrance of Roaring Run Day Use Area.
Stiles Falls at Camp Alta Mons
This 3 mile moderately difficult loop is located in Camp Alta Mons and leads to a 40 foot waterfall. What we love - After climbing a few boulders or scrambling up a short mountain trail, you arrive at the waterfall, which has a calm, wide base for splashing and cooling off
Getting There: Alta Mons, 2842 Crockett Springs Road, Shawsville, VA 24162

Are you an Insider Yet? Macaroni Kid makes it super easy for you to find your family fun all year long. Receive a local calendar of family-friendly events each Tuesday morning when you SUBSCRIBE FOR FREE! You'll be glad you did ... and so will your kids! For even more fun, find us on Facebook, Twitter, and Instagram