Chilly Greetings on this February day!
For our second month of 2021, we are sending you warm hugs in hopes that our Macaroni Kid families are making it through the continued Covid world we are living in. So many families are working differently, having to find things for their children to do, and dealing with covid related life happenings. We hope this calendar will help you create some family fun no matter what you have going on this month!
Get your free printable calendar here.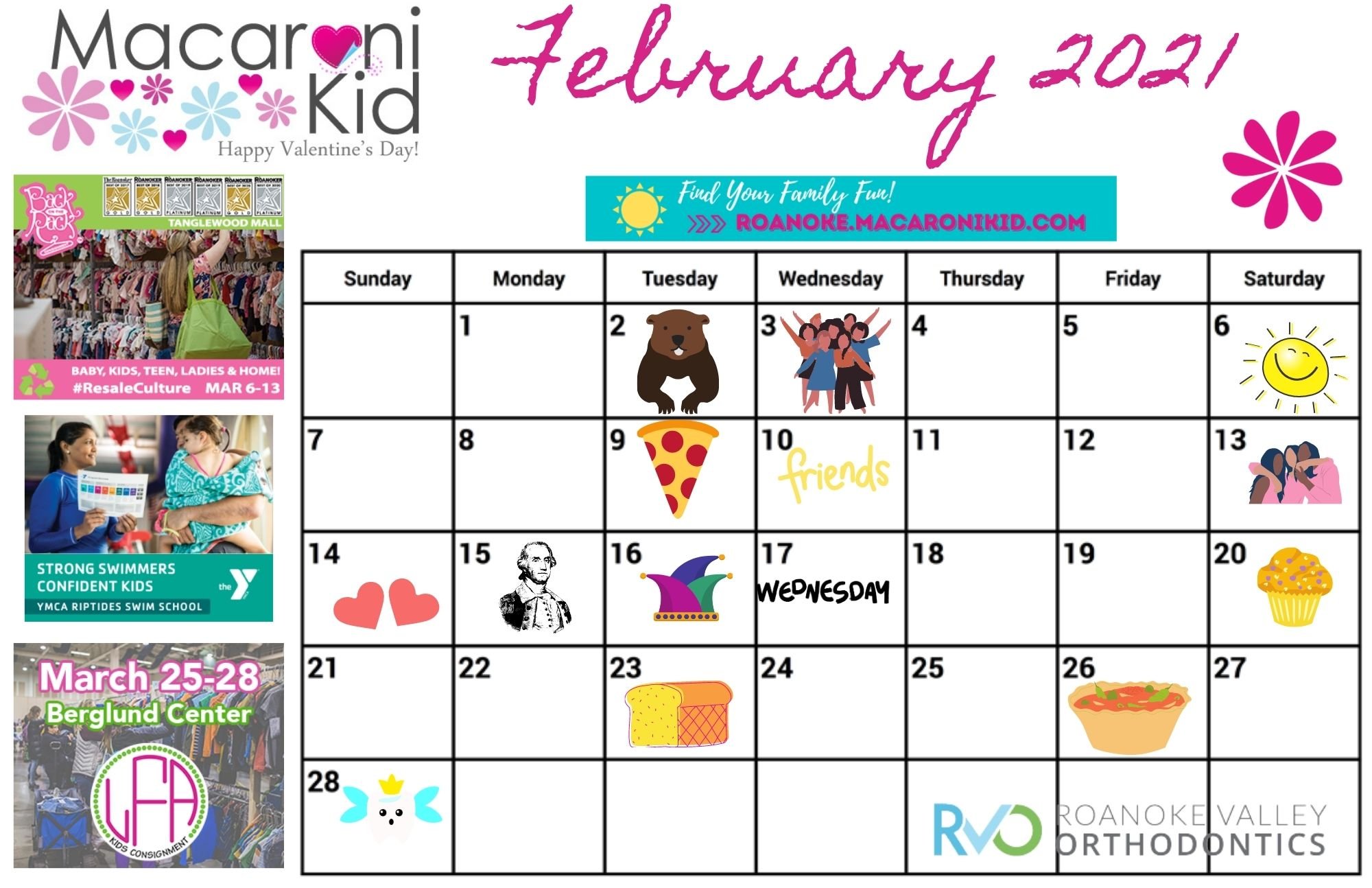 Celebrate all month long:
Bake For Family Fun Month
National Black History Month
National Pet Health Dental Month
Library Lovers' Month
Celebrate these Weeks:
Here we go!
February 1st National Freedom Day (Freedom from Slavery)
This is such a great day to celebrate the beginning of Black History Month! This is one of my favorite months to celebrate and plan activities in school, because it helps teach our children important life lessons about our past, and how we can change our future by remembering our past. My personal favorite lesson is on Harriet Tubman. If you have older children, you may consider watching the movie made about her last year. I watched it with my 11 year old and it really moved him. It is rated PG-13, so use discretion and check it out prior to showing to your older children.
In honor of this day, we have some activities you can plan with your family:
February 2nd Groundhog Day
Will the groundhog see his shadow this year? We wrote an article last year all about this holiday. Share the information with your family and make a simple craft after listening to his unique whistle in the article link! For your craft, print this groundhog printable and have your child color and glue googly eyes or whatever fun things you have around the house to decorate their groundhog. Add grass with green construction paper to the bottom of the picture!
February 3rd National Girls and Womens in Sports Day
Parents and caregivers of girls know how important it is to empower females. We can encourage our daughters, granddaughters, nieces, cousins, and friends to be whatever they want to be! I was not a sporty girl when I was younger but my daughter is growing up to seem as if she will love sports, so I can't wait to encourage her along the way and watch her flourish! We have a great article to read on Raising strong girls in honor of this day!
February 6th National Play Outside Day
My kids LOVE playing outside! They also love their video games, so as they have gotten older, it has been harder to make sure they balance inside and outside time. One thing that has really helped my kids was getting a few things to play with such as sidewalk chalk, jump ropes, bubbles, and other cool things I have ordered off amazon during quarantine. I also love to print a backyard scavenger hunt and have them head out in search of all the things! Here are some ideas to celebrate this day:
February 9th Pizza Day
Pizza is a staple in our house! We order it probably every other week, or make it homemade! Making it is so fun and the kids love being the "chefs" for the night. Check out our latest pizza making night! Here are some "out of the box" recipes to check out:
February 11th National Make a Friend Day
Good friends are some of the best things in life. I really cherish my friends and love spending time with them. It has been hard to not see them much at all since Covid began, but technology gives us the opportunity to try to touch base periodically. I am thankful for our Publisher, Beth Bell. We have been friends for almost 10 years! I met her through a company we both were involved with and we quickly became friends. Check out this picture of us at an event many years ago.
We have a great article on Friendship 101 to check out, too!
February 13th Galentines Day
Speaking of gal pals from the 11th, sometimes women need other women in their life to encourage them and be there when life is crazy.
We wanted to take a minute and highlight a local group of mom bosses who own businesses, work hard, and aren't afraid to show the world how to get things done.
Invite your gal pals to a zoom wine session tonight!
February 14th Valentines Day
There are so many fun ideas out there for today, the day where we celebrate Love. My husband and I often celebrate as a family on the night of V-Day and the weekend nearest we go to dinner or get takeout for a date night. We find that this makes Valentine's more of a family affair rather than just about us. But, every family celebrates differently! Enjoy this day however it makes you happy. We have some ideas to celebrate today!
February 15th President's Day
This is the day we honor George Washington and Abraham Lincoln. The day has a history of celebrating our first president's birthday, but in 1971, Congress decided to honor both presidents. Take a Virtual Tour of Washington's Mount Vernon and learn more about our amazing first leader.
Check out a cute craft idea to do with your children.
We have a yummy recipe for a cake that looks like our American flag, too!
February 16th Fat Tuesday
If you participate in Lent, enjoy that last yummy food or fun thing you love today, since Lent begins tomorrow! You can make a Mardi Gras Shoebox Float with your children at home.
February 17th Ash Wednesday
For some Christians, this is the first day of Lent. What are you giving up for Lent this year?
February 20th National Muffin Day
Muffins are such a cool food because you can easily have them for breakfast, but they serve as a dessert at night, too. So many flavors, muffins vary from sweet to savory, to even gluten free, and healthier versions. We make egg muffins every few weeks to have breakfast for the entire week. They warm up easy and are quick! Need a new recipe to try? We have you covered:
February 23rd National Banana Bread Day
I don't know about you guys, but during quarantine, I baked more than I have in years. I don't know if it was because I needed comfort food or I had more time on my hands after getting my work done for the day. Nonetheless, I tried different recipes for banana nut bread and found that each one was great, no matter which I chose. Here are two recipes to try for today:
February 26th National Chili Day
We eat chili every 2 or 3 weeks in the winter. It is a plus that we make enough for two dinners. Yes!
To celebrate this day, we have a variety of different warm recipes to try:
February 28th National Tooth Fairy Day
We love Dr. Jones at Jones Orthodontics for all our ortho needs! Dr. Jones sponsored our tooth fairy letter this year and it is amazing! If your children are just starting to lose teeth or have already lost a few, our printable and interview with the Tooth Fairy will be the highlight of their month! We would love to see a picture of your child receiving the letter from the tooth fairy, so send it over if you happen to grab a snap of their happy, excited faces!
An interview with the tooth fairy plus a printable!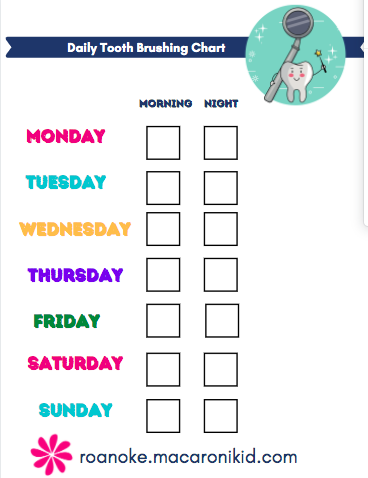 Are you an insider yet? We work hard to bring resources to parents and caregivers, and present local ideas for Family Fun! If you don't receive our weekly newsletter, click
here!