May is the month to celebrate our heroes fighting the coronavirus on the frontlines - it's Nurses Week, National Police Week and Emergency Medical Services Week. These weeks are always celebrated in May but this year it's even more important to honor the real heroes of this pandemic.
Macaroni Kid is here to help you celebrate a wacky holiday or a whole national month of fun. We hope to inspire you to create family experiences you'll never forget, even when you're quarantined at home.
While you're on our site, check out our campaign to help #savesummer and also all the summer camps in our Summer Camps and Programs Guide. Many have discounts if you register soon. We are still hoping summer is on, so get ready!
Download your Monthly Fun Calendar and hang it where you won't forget to celebrate all month long!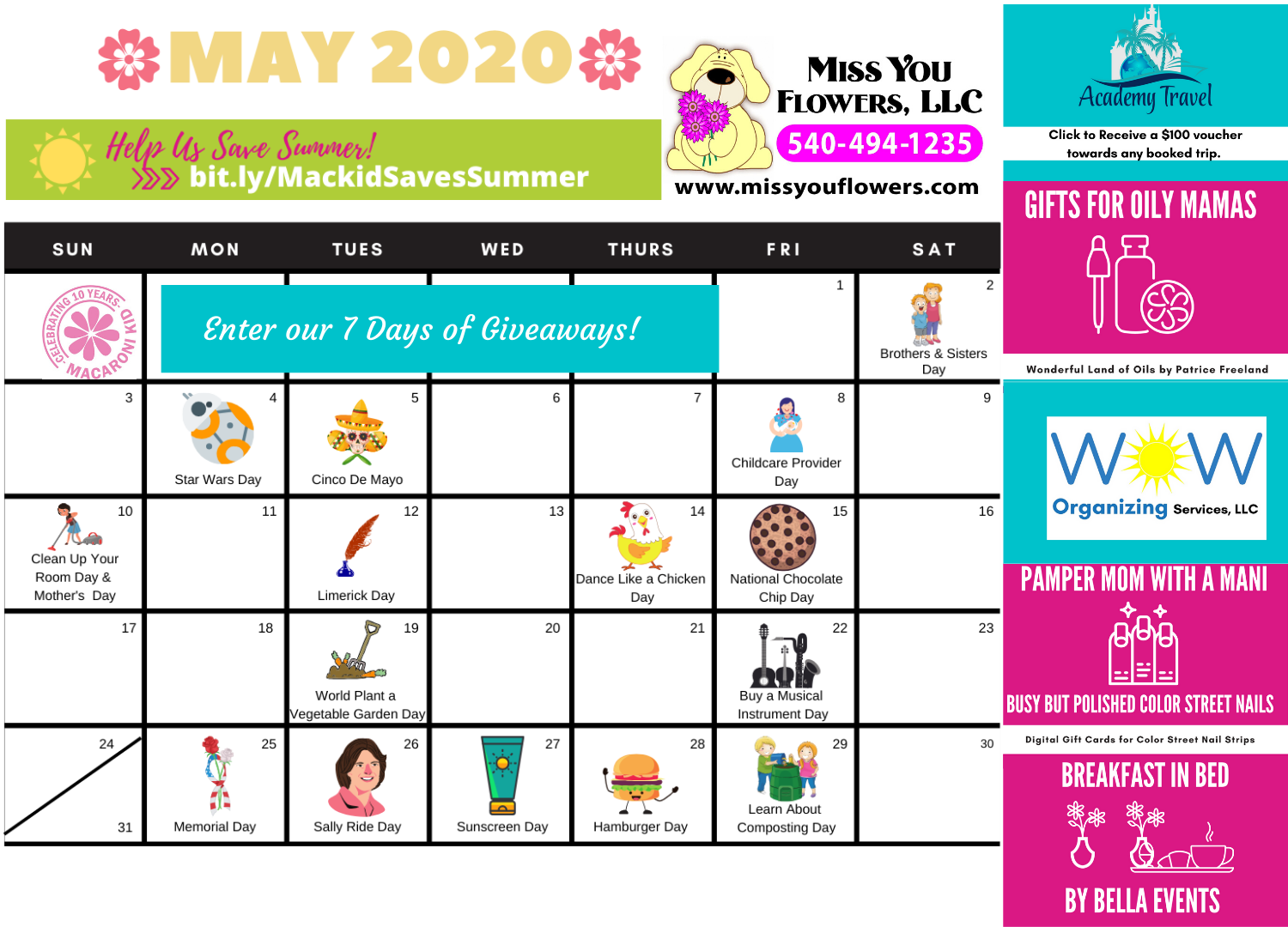 This month you won't want to miss:
Celebrate these things all month long
● Date Your Mate Month
● Foster Care Month
● National Barbecue Month
● National Bike Month
● National Photo Month
Celebrate these things by the week:
● Week 1: Nurses Week
● Week 2: Wildflower Week
● Week 3: National Police Week
● Week 4: Emergency Medical Services Week
May 2 - Brothers and Sisters Day
● There are few people in this world who will be with you your entire life, from cradle to grave, like your siblings.
Have your kids celebrate by playing games, creating crafts together or surprising each other with a homemade gift or letter telling them how special they are. Make sure to remind them that there's NO SQUABBLING. Even parents can get in on celebrating the day. Text, call or email your brothers and sisters just to say hi and I love you. Maybe have a special Zoom session for siblings that are your kids' uncles and aunts to top it all off!
May 4 - Star Wars Day

● May the fourth be with you. Celebrate with Baby Yoda Deviled Eggs and have a family movie marathon. Just think: being in quarantine may be the only time you have extra time to watch all the movies in the series!
May 5 - Cinco de Mayo
● This holiday celebrates the Mexican victory over France at the Battle of Puebla in 1862. Here's some delicious ways to celebrate and fun crafts to make at home:
○ Empanadas for Cinco de Mayo
○ Super Easy Flan
○ Homemade Chips & Salsa
○ Mexican Enchilada Lasagna
○ Mexican Tissue Paper Flowers
○ Mexican Bean Bracelets
Check out Kids Dance Fiesta where kids can learn to dance and sing easy words in Spanish here!

May 8 - Child Care Provider Day/Daycare Provider Day
● It takes a village right? This special day is always the Friday before Mother's Day because these ladies give you much needed support year round. Here's a great article on ways to teach kids to write thank you notes and say thank you in a simple, yet kind way.

May 10 - Clean up Your Room Day & Mother's Day
● These two holidays definitely go together. Tell your kids the best gift they could give you is to clean their rooms. BONUS if they clean the whole house. Here are some tips to help make cleaning fun!
May 12 - Limerick Day
● A limerick is a short, humorous, nonsense 5 line poem. The first two lines rhyme with the fifth line, and the third and fourth lines rhyme with each other. Here's one of the most famous limericks:
There once was a man from Nantucket
Who kept all his cash in a bucket.
But his daughter, named Nan,
Ran away with a man
And as for the bucket, Nantucket.
● Celebrate the day by having the kids write their own limericks and tell them the sillier the better.
● To prepare for the day, pick one or more of these silly books, from our article, to have the kids laughing all day long.

May 14 - Dance Like a Chicken Day
● If you've been to a wedding or some formal party chances are you've participated or at least seen "The Chicken Dance". Want to teach it to your kids? Show them this cute video of a chicken showing you how it's done.
https://www.youtube.com/watch?v=Hb9FwlubyIQ
May 15 - National Chocolate Chip Day

● Ever wondered how the Toll House Cookie recipe came about? Here's the story with a recipe for Banana Chocolate Chip Cookies. If you want a recipe you don't have to turn the oven on, here's a No Bake Chocolate Chip Granola Bars.

May 19 - World Plant a Vegetable Garden Day
● The best way to get kids to eat veggies is to plant your own garden at home. It's fun, you save money and there's nothing better than going into your yard to grab your own fresh food. Check out our articles on Gutter Gardening and tips for a Kid Friendly Garden for more ideas! If you need help with beginner gardening tips, join the amazing local facebook group.
Here's some recipes you can make using your home grown stash:

May 22 - Buy a Musical Instrument Day
● Stuck at home and don't have a musical instrument? Here's Four DIY Musical Instruments Your Kids Can Make.

May 25 - Memorial Day
● Here's some ideas to honor the men and women who have died while serving in our military:
○ 7 Ways to Honor Memorial Day with Your Children
○ What Children Can Learn about Service
○ Create Patriotic Fruit Pops together

May 26 - Sally Ride Day
● Sally Ride was the first American woman astronaut to go into space. Want to know more about this pioneer? The NASA website has information about her and many of the other astronauts who were brave adventurers in our space program. Have you seen the Virtual Tours with NASA we posted here?

May 27 - Sun Screen Day
● The weather is getting warmer and that means more time outside. Here's some tips, facts and suggestions to keep your family safe while getting a daily dose of Vitamin D:
○ Safer Sunscreen for your Family
○ Sunscreen Tips

May 28 - National Hamburger Day
● Since this is National Barbecue Month you gotta celebrate with a day honoring hamburgers. Plain, with cheese or vegan there's tons of different ways to make a burger. Yum! Have you seen the Grassfed Beef available locally?
Here's a few recipes you might not have tried before.
My family's favorite: Parmesan Stuffed Burgers
○ Easy Turkey Burgers Two Ways and Bangin' BBQ Garlic Burgers
And for Dessert: Dessert Burgers!
May 29 - Learn About Composting Day
● The Environmental Protection Agency (EPA) has great information on composting basics, benefits and instructions to get you started.
● Learn About Worm Composting
Want more information about how your business can be featured or a sponsor of a monthly calendar? Email bethbell@macaronikid.com.
Are you an Insider Yet? Macaroni Kid makes it super easy for you to find your family fun all year long. Receive a local calendar of family-friendly events each Tuesday morning when you SUBSCRIBE FOR FREE!You'll be glad you did ... and so will your kids! For even more fun, find us on Facebook, Twitter, and Instagram