Is your child continually struggling in school despite the help they are already getting? Do you wonder how your child will not only make it through school but the rest of their lives? Schedule a FREE 15 min consultation and speak with the only ADHD Specialist in a 3 hours radius. I, and many successful professionals have learned to not just manage our ADHD, but how to harness it, and unleash the ADHD superpowers that help me thrive every day. Leave our call feeling more hopeful and confident about a plan for success in your child's future.
Gabriel Villarreal, is a Licensed Professional Counselor in the state of Virginia. He owns LostBoys Strength & Conditioning, the only gym that offers coaching to children with special needs such as ADHD, ASD, Depression, Anxiety and other mental health disorders. Additionally, with his private practice, ADHD Counseling in the Roanoke Valley he coaches the only class in the country specifically for ADHDers, designed to give them the medicine exercise offers. Gabriel is an expert in the topic of exercise and mental health, is routinely asked to speak to gyms, coaches, athletes and educators, in the Roanoke Valley and beyond, on all things exercise and mental health.
As of October 2020, ADHD Counseling has a new, larger, office in the same location, allowing for socially distant therapy sessions.
We are now offering telehealth services.
Dr. Wendy Eckenrod has joined ADHD Counseling and sees clients in Roanoke and the New River Valley. Dr. Wendy Eckenrod could be the perfect fit for you or your child. She has over 20 years of experience in the counseling profession and is the current president for the Virginia Counselor's Association and leader in her community. Experience what it is like to have a seasoned professional who takes the time to understand you and your needs. Dr. Eckenrod specializes in relationship and family issues, parenting children and adolescents, as well as depression and anxiety.
Schedule a phone consultation online https://roanokeadhd.clientsecure.me
Exercise as Medicine
Gabriel has published several books that you may find helpful.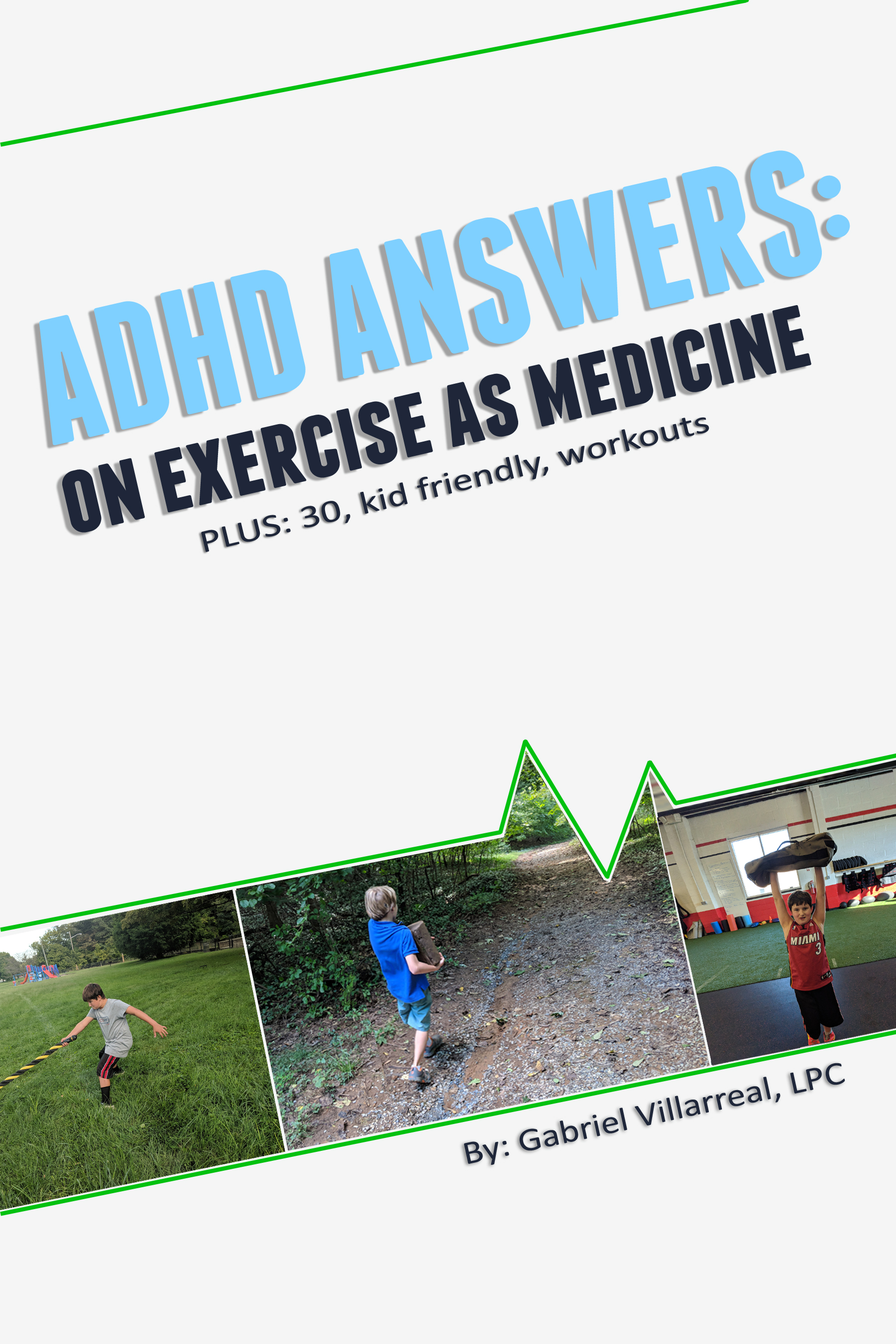 Parents of children with ADHD often question whether to medicate their child or not. The answer is mixed. Some children could definitely benefit from medication while some children might just need a few tools to see how they could be performing and learn to not rely on the medication. Regardless all parents need to understand that there is a medication that no doctor is prescribing! And that is exercise.
Business Review
Gabriel is invested in providing each client a unique, energetic opportunity to see positive healthy change in every day life. Angie A.
Gabriel and I have worked together on several professional projects over this past year. During this time I have witnessed his passion and expertise in helping individuals with ADHD. His personal knowledge of ADHD combined with professional knowledge as a counselor gives him unique insights in to the struggles and strengths of ADHDers! When addressing client's needs he comes from a place of understanding and support. He knows what it's like to struggle with ADHD and he truly wants to see his clients succeed! Noel A.